The Edison
The Edison, that you can find in the basement of the Higgins Building in LA, was once home to the city's first power station. Built by brass-baron Thomas Higgins, who had a dream: to move downtown to LA's then-vacant west part, where Wall Street West is today. Of course, the center of the city was to be his own building, sporting all advances of science: lightning-quick electric elevators, lighting, clean running water. However, this was 7 years before LA had its electric grid, so Higgins needed an own plant.
This is the one. After it's start, it was in use for a few decades, but later it's been left to decay.
That, until Andrew Meiran (an interesting, Tim Burton-esque figure) and his partner bought it to restore it's glam and create a legendary club in its place. The place, that took 3 years and 2 million to build, is an ode to the industrial revolution and the endless optimism of the era.
The builders preserved everything they could: the steam engine and the line of generators from the '30s are al there, together with the original piping. The turbines been found in a bad condition, but after thorough cleaning they are on display too – cut in half, so while you sip your cocktail, you can have a look inside. The DJ's cabinet is in the place of the former chimney entrance. All new pars built – the steps of the entrance, or the central bar – all have the same style.
After the opening in 2007, The Edison quickly became a cult place. The designer Meiran only heard of steampunk a week after the grand opening. The 'industrial cathedral', together with its victorian, gothic and art deco elements is one of the best examples of this style.
The Well
The Lab
Tesla lounge
Music room
The Main bar
Generator room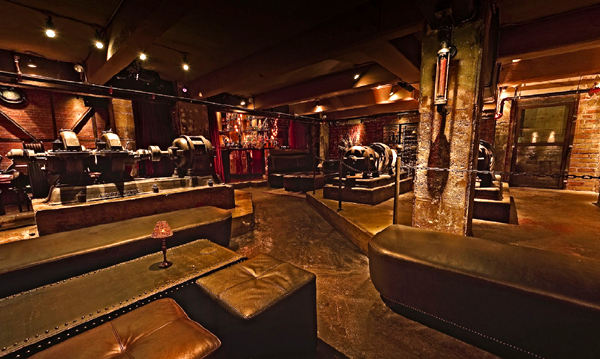 Game room
Ember parlour