Luxury loft in an old factory in Roubaix
Interview with Sylvie and Thierry
Sylvie and Thierry are owners of a magnificent loft of 200 m² Roubaix they just put on sale at € 395,000. To sell their loft they have created the site -a loft-vendre.fr which is very many pictures of the loft, descriptions of materials, fixtures, appliances … present in the loft.Difficult to do more detailed, the site offers a full review of the loft!
We proposed to Sylvie and Thierry to do an interview to share with you their experience of loft, and they have agreed to answer our questions.


Where is your loft?
Our loft is located in Roubaix in the city center at 500 meters or 5 minutes walk from Eurotéléport (metro, bus, tram), the large shopping center, street (50 + stores Giant Hypermarket), cinema and the duplex center McArthur Glen (86 outlet stores).
Housed on the top floor (2nd floor with elevator) of a mill dating from the late nineteenth century, fully renovated.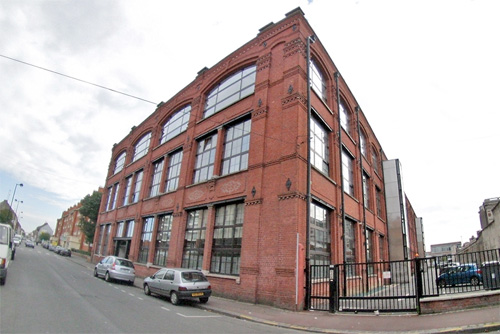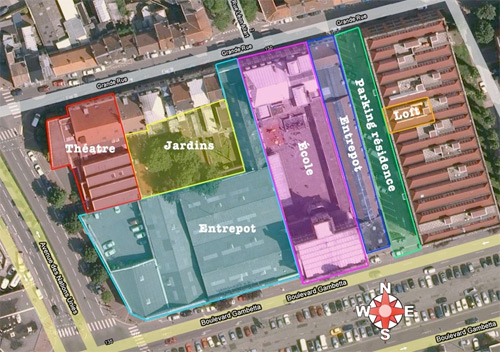 What was the previous function of the place?
The factory-Allart Rousseau - General Textile Industries Company was founded in 1849. It includes workshops for washing wool, and especially the first wool combing mechanized Roubaix. The 7 combing it contains are so driven by horses. After several expansions, it becomes a place to impressive proportions that extends to the canal de Roubaix.
Through its architectural influence and its geographical position, the factory was for institutions Motte Bossut at the other end of the boulevard (boulevard Gambetta and the current General Leclerc).
Around 1850-1860, the boulevard was a huge channel connected to the Roubaix canal today. He allowed two plants to eat and water to bring the coal barges, these two elements are essential for turning the steam engines. The canal was filled in 1868.
Of note, he has been kept a small portion of the plant (which does more than …. 7000 m²!), Or that is now our loft.
It can be seen on this postcard dated 1900 that although the building had two floors.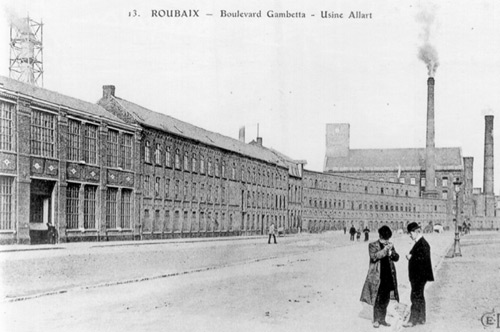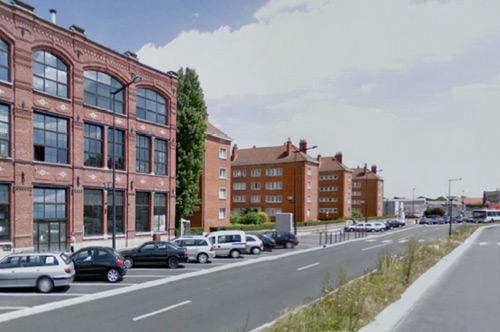 Living in a loft was a dream for you?
Originating from the Paris area, we came north for work reasons (hey, it reminds me of a movie!) And we first rented a large apartment of Haussmann in the center of Tourcoing.
Then we decided to buy a house or apartment with garden terrace, it was not really fixed, we awaited the stroke of heart.
It happened quite by chance … ..
During our research, we proposed to visit lofts and … .. During these visits, it became quickly apparent that this was the type of habitat that attracted us the most.
But few products met our expectations, many lofts with only two rooms (there we had three) and most often on completely open loft (we wanted … real bedrooms with doors!).
The other criterion MISSED: a beautiful terrace quietly and without vis-à-vis.
For the rest: A beautiful plant with a history and atmosphere, lots of light, spacious and close to public transport and shops … In fact … we all wanted!
And we found it!
In what state was your loft when buying?
The building was completely renovated.
We bought the loft during construction, which allowed us to choose all the materials, finishes and amenities.
The design was brilliantly performed by an architect to beautifully optimized surfaces taking into account height and brightness, using each beam as much decorative elements in virtually every room.
Starting with a superb base so we were more than we focus on what we finally enjoyed most layout and decoration.
What spirit do you want to give your loft in the landscaping?
To summarize: our loft could be described as sober, refined and elegant.
All the industrial structure was painted black and contrasts with mostly white walls, all land is covered with a Burmese teak flooring chocolate hue that brings great warmth to all.
We did not want to overdo the industrial character for example using materials "gross", such as brick or tile store Beugin industrial origin (but we have retained, under the floor teak!).
Do not want no more to add - apart from a large lamp from a plant found by chance on a high shelf in a supply store in Roubaix and electricity was installed in the center of the plate.
To summarize, our bed is pretty sparse and design as "welcome to the factory!".
For floors, we chose a solid Burmese teak (20 mm) of superior quality blades 140 cm on the tray and blades 140-240 cm for the floor. Not less than 2 tons of teak were necessary to cover the entire land of our loft.
For bathrooms, we are pleased and opted for Italian designer furniture Artelinea with glass and crystal bowls very design. For walls: Italian mosaic glass paste and white ceramic ultra-smooth. Faucets design.
The kitchen is white and aluminum, by its very design, it has been custom made by a consulting firm specializing in Roubaix designing kitchens for 25.
The German manufacturing furniture and kitchen has an island with a work thick with a length of 3.15 m by 1 m, very friendly.
Franke Planar sink and faucets / Ionos upscale with a very square design and pure. Neff Appliances with aluminum hood Roblin, Samsung American fridge.
VIA ~ notreloft